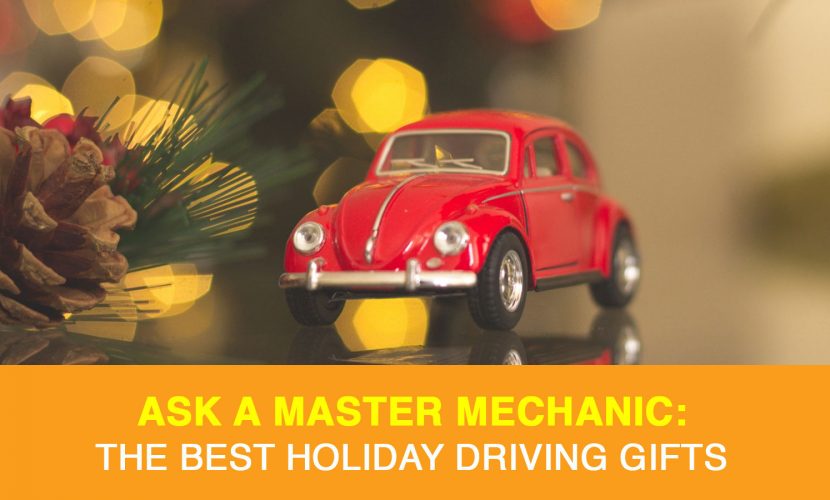 Ask A Master Mechanic: The Best Holiday Driving Gifts
With the holiday season well underway, it's time to start thinking about gifts for everybody on your list. While this might not be the easiest thing to solve, we're here to help. We're going to go out on a limb and assume you have a few drivers on their list. If that's the case, and we have more than a few great gift ideas they'll love.
We caught up with a Master Mechanic to talk gift ideas for drivers this holiday season.
Dashcams
Dashcams have become increasingly popular in the last few years. These are not the parking sensor cameras that come installed on some vehicles. These cameras are strictly for recording footage while driving or parked. They can also be very helpful in the unfortunate event that you need to make an insurance claim–especially if you weren't present at the time.
There are a variety of models currently on the market, and if you're not well-versed in camera tech, they might all seem the same. It boils down to this: the more you spend on a dashcam, the more built-in features it will likely have. That doesn't mean you need them all. These features can include auto record, auto-save, a CCTV mode when parked, and more.
Wireless Car Chargers
No one likes seeing a low or dead battery on their smartphone. This is especially true if you rely on your phone for turn-by-turn navigation. Luckily, car chargers are a pretty common car accessory nowadays, but advancements in technology have garnered some pretty cool features in the past few years.
Many new smartphones now come equipped with wireless charging capabilities. This means you can simply charge your smartphone by placing it on the charging pad, instead of plugging it in. Many mountable wireless charges are magnetic and can be attached to your dash or windshield, so they hold your phone within view. Although convenient, wireless charging does trade speed for convenience and will provide a slower charge than the traditional method.
It's also important to note that different cities, provinces, and states have different laws pertaining to mounted phone holders and chargers. Be sure to check the laws of the jurisdiction you're driving in before you install your charger.
Backup Cameras
Backup cameras are a nifty accessory that was once reserved for luxury vehicles. Today, almost all new vehicles have the option to add a backup camera and many come equipped with one as a standard feature. Most, not all.
If you know a driver without a backup camera, you can provide them with the safety and convenience of this feature without springing for a new car. You can buy third-party accessories that work as well as, or better than, many manufacturer-installed backup cameras. They are generally reasonably priced, quick to install, and can save a lot of money by helping drivers avoid parking collisions.When comparing camera models, you'll want to look at the angle of footage the unit captures, the quality of the footage (e.g. HD 1080p), and its compatibility with vehicles.
At Master Mechanic, we're always happy to help in any way we can. If you have any questions about parts for your vehicle or are looking to also have your gift installed for your recipient, don't hesitate to contact your local Master Mechanic. We're always here to help!