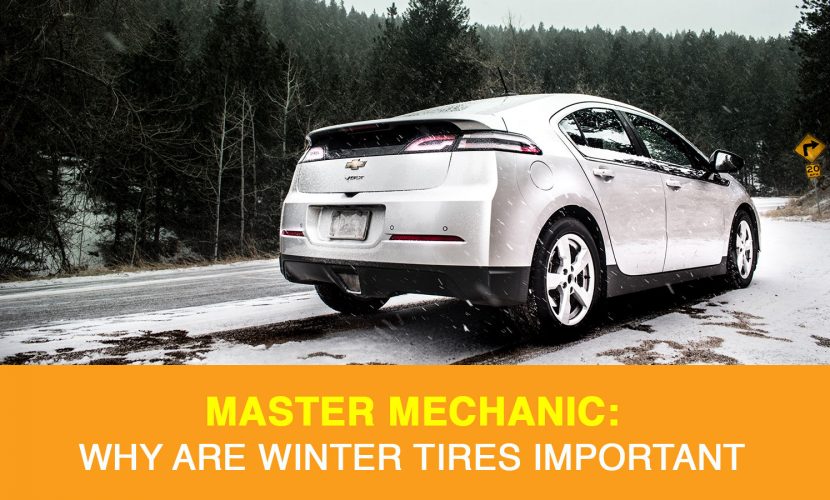 Ask A Master Mechanic: Why Winter Tires Are Important
Like it or not, winter is right around the corner. At Master Mechanic, that means questions about winter tires. We'll start by saying that winter tires will undoubtedly make our vehicles safer on snow and ice. This article won't be about debating the need for winter tires. Instead we'll be looking at the benefits of installing them.
Winter Tires Don't Fail Under Extreme Conditions
Winter tires have a flexible rubber compound and unique tread design that's specially designed for snow, slush, ice and cold temperatures. Unlike all-season tires, there is no compromises made to work in other seasons, so they work exceptionally well in extreme conditions. You can expect significantly increased traction when accelerating, better stopping at shorter distances, and improved directional stability at higher speeds.
All-season tires tend to perform decently in cold temperatures, and decently in warm temperatures, but they don't provide nearly the same benefit of winter tires. On the contrast, winter tires won't perform as well as all-season in warming temperatures.
Maximized AWD Performance
Many Canadians choose to get a vehicle with All Wheel Drive (AWD). While today's models have more responsive, accurate and advanced all-wheel-drive systems than ever before, it's not a replacement for winter tires.
A car's AWD system reacts in low-traction situations with millisecond precision to change power in each wheel independently. This does help better maintain control and keep passengers safe–but it works exponentially better with winter tires installed.

Although AWD systems can be extremely responsive, the only way to increase the traction between your vehicle and the road is with your tires. Winter tires allow your AWD system to perform with maximum effectiveness and can help increase grip when turning and stopping.

Did you know? When driving in cold weather conditions, winter tires can shorten the stopping distance of your car by up to 40 percent.
Extreme Cold
Winter tires aren't just good for snow and ice. All-season and performance tires tend to get harder when they're expose to cold temperatures. This is bad. Effective traction relies on your car tires being soft and malleable when it collides with the road's uneven surface. In cold weather, non-winter tires can get hard and brittle, which can cause cracking or punctures when exposed to the road. In a nutshell: even on dry roads, winter tires work better in the winter. Go figure.
If you have any questions about when to install winter tires, or your car in general, be sure to contact your local Master Mechanic. We're always happy to help.