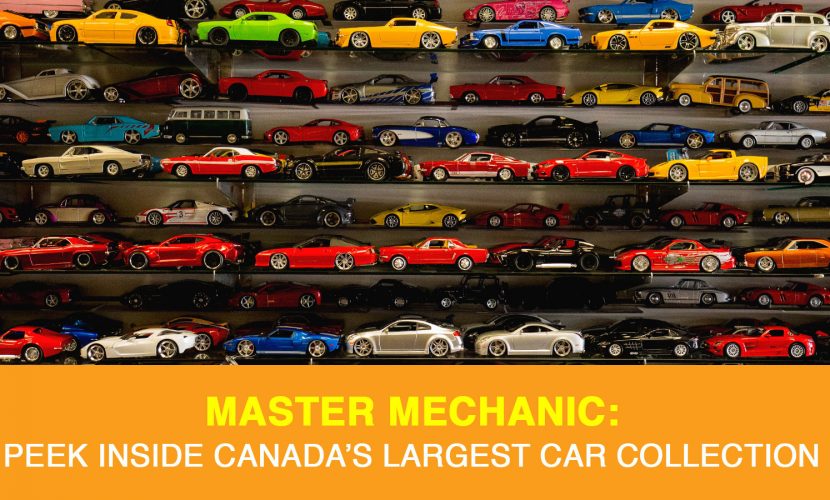 Master Mechanic: A Peek Inside Canada's Largest Car Collection
Cars are something a lot of people are passionate about, and at Master Mechanic, we can relate! Few Canadians are more passionate than Calgary car collector, Fred Philips, though. Over the last 25 years, Fred has amassed one of the largest and most prized collections in the country. From European exotics to American Muscle cars, Fred's collection is sure to house a favourite for everyone—and a lot of cars most people have never heard of.
Ever so often, Fred opens the doors to his collection and provides tours to the public in support of the Alberta Adolescent Recovery Centre (AARC). He has so many cars that when he does hold tours, it takes four large buildings to show off his prized stable of machines! Fred matches all the donations he receives through the tours and donates it all to AARC.
From a custom-bodied Bentley that once belonged to the mistress of the King of Spain to Ferraris and Lamborghinis, Fred Phillips' collection is said to hold some cars with wild backstories. Below we look at a few of the coveted cars he keeps in his collection.
1938 4 1/4 Bentley Van Vooren
This car is truly unique. It's one of a kind and the second Bentley model ever created after Rolls-Royce acquired Bentley in 1931. While it was common at the time for Bentleys to be altered by coachbuilders, most were additions from British designers. This particular vehicle was bodied in Paris by Vancooren–making it a one of one. It was ordered new by twenty-seven-year-old Lucie Vogt, a daughter of a very well-to-do French family that owned many potassium mines. She had it custom made with no quarter windows in the back seat so that her dogs would not be afraid of other cars on the road. It also has a sliding sunroof—definitely not the norm at the time.
1953 Fiat 8V Ghia Savonuzzi Supersonic
The 8V is one of Fiat's most legendary and celebrated production models, and you'll find it in Fred's collection! Up until the mid-twentieth century, FIAT was known for making reliable consumer automobiles. The 8V was FIAT's introduction into the sports car market. Sporting a V-8 engine and four-wheel independent suspension, it was—and still is—a beloved car of connoisseurs around the world. It also attracted the attention of Italian coachbuilders. With only 114 made, about 40 went to Carrozzeria Ghia of Torino, and 15 were bodied according to Giovanni Savonuzzi's design, known as the Supersonic. That's right—there were only 15 of these cars ever made, and one is here in Canada!
1955 Abarth 207A Boano Spyder Corsa
The Abarth 207 A Spyder was explicitly designed for the North American market, and only 10 were ever produced. It borrowed the engine from the famous Fiat 1100, but housed it in a specially designed sports car chassis for better performance.
The 207 was created in the early years of Abarth—an Italian racing and road car manufacturer—and was the company's first production race car. Mario Boano designed the unique Spyder body with its distinctive side-mounted exhaust and protruding fender creases. The driver cabin is noticeably small, with only a thin Plexiglas windscreen and a rear tail fin to shelter the driver.
That doesn't even begin to scratch the surface of vehicles in Fred's collection, and we're sure you're personal favourites will differ from ours.

Whether it's one car or ten, your local Master Mechanic is here to service your personal car collection and help with any questions you might have.