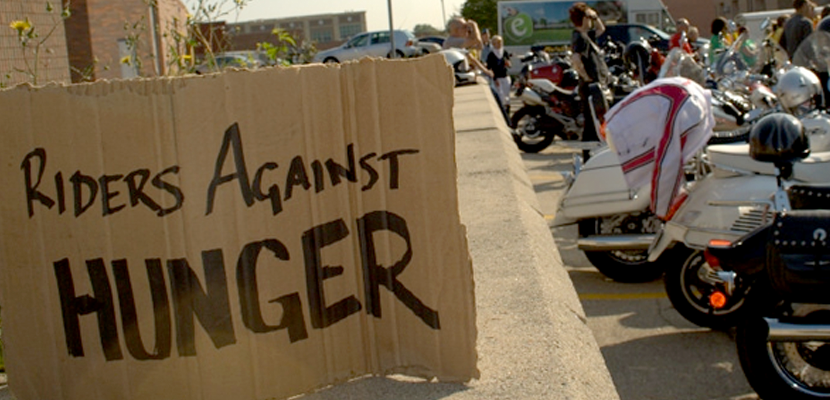 Master Mechanic Helps 'Eden Food for Change' with Riders Against Hunger
We're proud to announce that for the second year in a row Master Mechanic, along with our Meadowvale location, will be a Gold Sponsor for Riders Against Hunger, a charity motorcycle ride that takes place every third Saturday in August.
Making a Difference to Fight Hunger
For the past 5 years, motorcycle enthusiasts have taken to the road in support of Eden Food for Change. A local charity in the Mississauga area helping to make a difference in their community.
The run lasts about three to four hours and traverses some of the amazing scenic routes north of the GTA. If you've had the opportunity to participate in a previous ride, every year the route changes. This promises an opportunity to help hungry families in the form of a fun day of riding. To date, Riders Against Hunger has raised over $100,000 for Eden Food for Change.
'Eden Food for Change' Initiatives
Eden Food for Change isn't just a food bank. It started out as a simple observation of a much-needed service. Over the past 25 years, it has evolved into an organization committed to providing better access to food and education. So that low-income individuals and families can make healthier food choices easily.
How to Make a Donation
For every $10 raised by Riders Against Hunger, Eden Food for Change can purchase and distribute close to $45 worth of food. Money raised also helps supply ingredients for their in-house learning kitchen, which provides cooking courses, employment training, and meal production to food bank clients. 
If you would like to make a donation or join the motorcycle ride, please visit Riders Against Hunger's website or their Facebook page to learn more about the organization. Visit Eden Food for Change if you're interested in volunteering your time with the food bank,