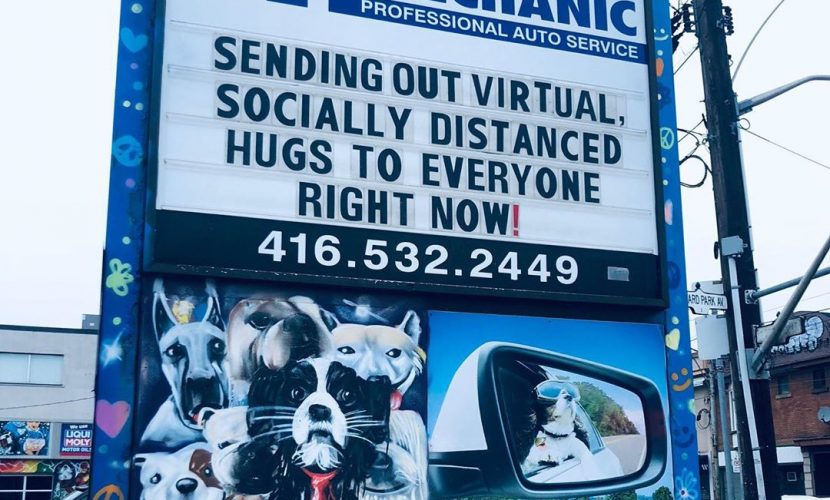 MASTER MECHANIC HIGH PARK: CHECKING IN ON YOU!
We hope you and your loved ones have been keeping safe over the last few months. Like you, we've been watching 2020 go by while carefully monitoring all the latest updates and news. Although this year is unprecedented for a number of reasons, we've also witnessed unprecedented kindness in our community and country. With Fall upon us, we wanted to provide our beloved customers with some updates of our own, and shine a spotlight on some of the positivity we've experienced. Although we're all keeping our distance, we'll get through this together!
LOW-CONTACT SERVICE. ENHANCED SANITATION.
HERE WHEN YOU NEED US.
While we've been lucky enough to see many of you in the shop over the past few months, we understand that some people haven't needed our services just yet. We're here for you when you're ready. We've modified our service protocols based on recommendations from the Canadian government and our local public health authorities. To better serve you during this unprecedented time, we are offering contact-free key drop-off, virtual payment, and have adopted even more rigorous sanitation practices. You can view all the safety precautions we're taking in response to COVID-19 below. If you have any questions, please don't hesitate to reach out!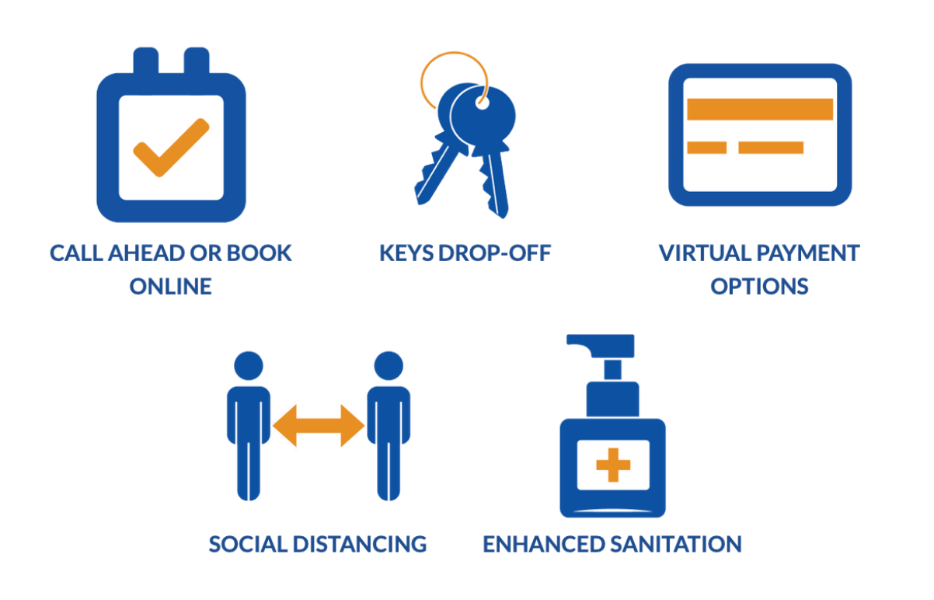 HOW WILL DRIVING LESS IMPACT YOUR CAR?
Curious about how working from home or commuting less has impacted your car? Check out the latest blog on All State Canada for some insight from our incredible Lead Technician, Rui Silvestre, and the President of the Automotive Industries Association of Canada! If you have any questions about your vehicle, fall maintenance, or winter tires, give us a call! We're here to help!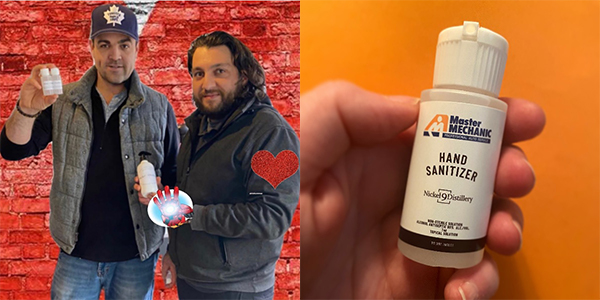 KEEPING THE COMMUNITY SAFE
A BIG thank you to our new friends at Nickel 9 Distillery for quickly stepping up in March to produce hand sanitizer when the community needed it most. When we saw the amazing work they were doing, we reached out to co-owner, Chris Jacks, to purchase hand sanitizer for our customers and anyone in the community that needed it. A portion of our donation went towards helping the team at Nickel 9 produce more hand sanitizer for the community, healthcare workers, and essential businesses!
THANK YOU TO OUR HEALTH CARE HEROES!
To show our support for the incredible #HealthCareHeroes in our community, we partnered with Napa Auto Parts Canada and Liqui Moly to provide FREE oil changes for healthcare workers! We also sent them home with care packages that included gift certificates, hand sanitizer, gloves, masks, chocolates, and dog treats for their furry friends!
To spread joy beyond our shop, our team surprised hospital and emergency service workers in the area with boxes of a dozen donuts. While this small gesture is nothing compared to the selfless work they do, we wanted to remind these real life superheroes how appreciated they are!
BLACK. LIVES. MATTER.
Racism happens around all of us, even when we don't realize it. Anti-racism requires persistent self-awareness, constant criticism, and regular self-reflection. As we continue to stand in solidarity with the Black Lives Matter movement, our team has been meeting regularly to discuss different ways we can show our support. This summer, we proudly provided a split $1000 donation tothe Black Health Alliance and the Parkdale Queen West Community Health Centre. Our team also committed to reading This Book Is Anti-Racist and How To Be An Anti-Racist to strengthen our understanding of this important issue and fuel further discussions about how we can combat racism. As the country rallies to support local, we also encourage everyone to remain mindful of black-owned businesses in the community that you can support, like our good friends at Parkdale Pet Foods and How She Hustles!
SPREADING COMMUNITY LOVE!
MEALS FOR YOUTH SHELTERS!
We'd like to thank Gurbeen Bhasin and the team at Aangen for all that they've done and continue to do in 2020! Earlier this summer, our team was pleased to partner with them to donate 50 meals to youth shelters!
COMBATING HUNGER!
Donating to the Parkdale Community Food Bank has always been important to us. To support their #ActionHungerMonth initiative in September, our team donated some high-need food items. To continue combating hunger in our community, we decided to become an official donation centre for the entire month of October! Until October 31st, we'll be accepting non-perishable food items and hygiene products at our shop on behalf of the Parkdale Community Food Bank. As always, we're proud to partner with them!
RENOVATIONS AT THE REDWOOD!
Through the AIA of Canada High Five For Kids Foundation, we provided a $5000 donation to The Redwood Women's Shelter. Our donation helped transform their internal courtyard into the new beautiful Redwood Park, which was unveiled last month! Thank you to all the donors that made this possible!
TOYS FOR THE COMMUNITY!
We reached out to Scooter Girls Toys to help pick out some unique toys and stuffed animals to donate to The Redwood Women's Shelter. The toys were delivered over the Easter Weekend for kids in the community to enjoy!
SUPPORTING THE PERIOD PURSE!
We once again supported The Period Purse as an official drop-off location for #TPPFALLBLITZ! In addition to providing FREE menstrual products to those that need them, they help break misconceptions about periods and educate the public about period poverty. Thank you to the team at The Period Purse for leading this initiative and our wonderful community for supporting each year!
SUPPORTING LOCAL BUSINESSES!
It's more important than ever to #SupportLocal businesses that give our community its unique personality and charm. With all the incredible restaurants, bakeries, and stores in our neighbourhood, showing our support has been rewarding in more ways than one! Shoutout to all the amazing shops on Roncesvalles for always keeping our team smiling
SUPPORT LOCAL IN THE
2020 READERS' CHOICE AWARDS!
The Toronto Star and Now Magazine have both launched their 2020 Readers' Choice Awards, and we're so honoured to be nominated in both. Voting in The Readers' Choice Awards is now open, and it's the perfect way to show some love to your favourite local businesses. Thank you for your continued support!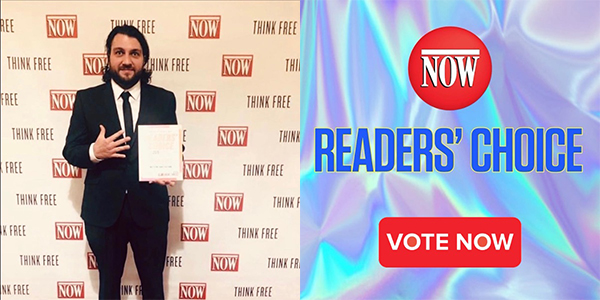 VOTE FOR US: BEST CAR SERVICE
We're beyond grateful to have been named Toronto's Best Car Service by NOW Magazine for the past 5 years, but going 6 for 6 in The Six would be a dream come true! Once again, we can't do it without your help! You can find us under the Shopping & Services category with lots of other amazing local businesses you can support! Voting closes on October 29th!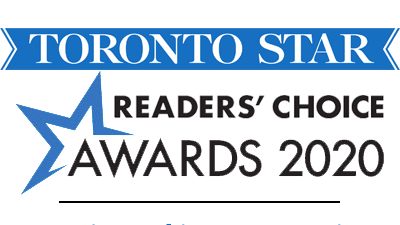 NOMINATED: BEST OIL CHANGE
We've been nominated for Best Oil Change by the Toronto Star! Thank you to our amazing team for all your hard work and to our incredible customers for getting us nominated! We really appreciate your support!
CONSTRUCTION UPDATES!
The multi-phase streetcar track renewal at our intersection of Dundas Street West and Howard Park Avenue is in its final phase. Good news: the city estimates that the construction will be completed by October 25th! In the meantime, you can continue to access our shop via Howard Park Avenue–the street is NOT CLOSED for customers and local traffic.
SAY HI ON SOCIAL MEDIA!
Check out our social media below to keep up with the latest news, initiatives, and updates from Master Mechanic High Park! Heard a noise in your car? Have a question about our services? Don't hesitate to call, email, or book online today!
Believe it or not, winter tire season is right around the corner! You can learn all about tire types and timing below, or pre-book your winter tire appointment now.
AND FINALLY, TO SUMMARIZE
2020 SO FAR…