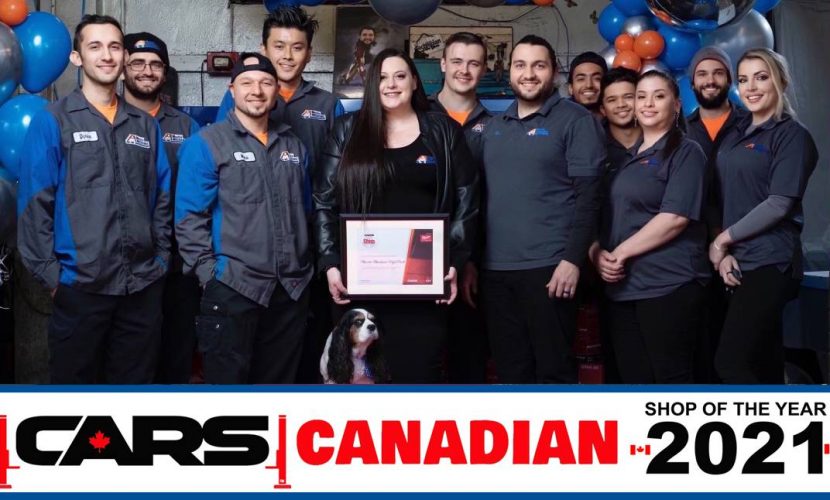 Master Mechanic High Park Wins CARS Magazine Shop of the Year!
The film industry has the Academy Awards, the television industry has the Emmys, the music industry has the GRAMMYs, and your industry probably has a coveted award too! For automotive professionals being selected as Auto Shop of the Year by Canadian Auto Repair and Service Magazine (CARS) is one of the most significant accomplishments!
Master Mechanic High Park is beyond thrilled to be honoured as Canada's 2021 Auto Shop of the Year by CARS magazine! They could not be any prouder of the team for all they do for their customers and the community. This award is a testament to the team's track record of servicing cars, supporting the community, and creating a more inclusive reputation for the automotive industry.
What makes Master Mechanic High Park Shop of the Year?
Master Mechanic High Park has always been about honest and quality service. Josie Candito opened the doors in March of 1999 at a time when female shop owners were almost unheard of. She has been shattering misconceptions about auto shops ever since. With her co-owners Mike Tavares and Rui Silvestre by her side, they have always taken a customer-first approach. That's why they have built such a long-standing relationship with their customers. It's not uncommon for the team to service someone's very first car, and later, their first family car too!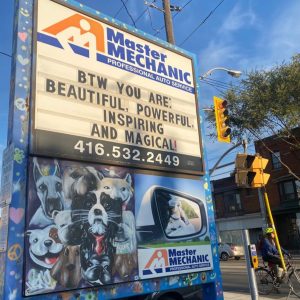 Master Mechanic High Park is a team that constantly replaces "why" with "WHY NOT". Why would an Auto Shop use its street sign to display positive messages for the community instead of prices or promotions? WHY NOT! Why would an Auto Shop provide winter clothing to those in need every year? WHY NOT! Why would an Auto Shop have a doggie pool for customers' pets to cool down in the summer? WHY NOT! Why would an Auto Shop have dog treats for pups that come in or pass by? WHY NOT! Why would an Auto Shop work to help get animal rights laws updated? WHY NOT!
Master Mechanic High Park has been named Best Auto Shop in Toronto for 7 consecutive years by NOW Magazine. The shop took home a Diamond award in ALL 6 automotive categories for the Toronto Star Readers' Choice Awards in 2021. In 2017 their Lead Technician, Rui Silvestre, was recognized by CARS Magazine as Canadian Technician of the Year. The team is very proud of all their accomplishments but being part of the community—and spreading positivity—is the most important thing to them.
That's exactly why Master Mechanic High Park consistently strives to surpass the expectations of their customers and the community. In these unprecedented times, Master Mechanic High Park participated in several initiatives to help support the community.
Josie Candito works with The Redwood, a women's shelter that helps empower women to start over again. Additionally, she works with local non-profits like the Parkdale Food Bank, Stone Soup Network, The Period Purse, Aangen Community, Community Fridges Toronto, Revue Cinema, High Park Zoo, and many more. The shop is used as a donation center for the Parkdale Food Bank and The Period Purse. She also works with local schools, dog recues, Black Lives Matter, Indigenous causes, and Anti-Bullying initiatives. For her charitable work, Josie has been recognized with 'The Urban Hero Award', the 'Good Neighbour Award' and 'The Canada 150 Changemaker Award'.
During the COVID-19 pandemic, Master Mechanic High Park quickly implemented many safety measures to ensure their customers and their team felt comfortable servicing their vehicles. The shop offered sanitation stations at the entrance and counters, key drop-off, and contactless payment options well before the government mandated them. They also created their own decals reminding customers to stay "Three Charlie's Apart" for social distancing! Their helpful spirit reached far beyond their shop walls. When there was a hand sanitizer shortage, Josie worked with her local business partner Nickel 9 Distillery to secure bottles for her customers, the team and anyone in the community that had need.
Some other acts of kindness during the pandemic included:
Partnering with Liqui Moly to offer free oil changes for health care workers that came into the shop for service. They also provided a #ThankYou package, including a card, gloves, hand sanitizer, masks, dog treats, chocolate, coffee, and gift certificates
Using their shop and their social media channels to promote neighbouring businesses and #ShoppingLocal
Placing banners on the exterior of their shop with messages of appreciation for essential workers. This coincided with #NationalSuperHeroDay to celebrate frontline workers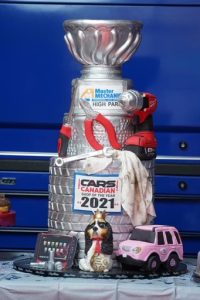 The Master Mechanic Team strives to create a welcoming and safe space for everyone in the community—including pets! Inclusion is very important to Josie—and as a woman working in automotive, she understands the importance of representation. Their OPEN sign glows behind banners supporting LGBTQ+, Black Lives Matter, and other seasonal causes like Breast Cancer Awareness month. The space is proudly inclusive, accessible, clean, and has a very friendly vibe. Throughout the waiting area, you'll see letters of appreciation, children's drawings, pictures of the staff with their beloved customers, and probably a dog or two! ? Josie works hard to correct misconceptions on what women in the automotive industry can achieve and what an automotive shop should feel like. She's already proven that women can set the bar high, and that everyone can ENJOY a trip to the mechanic.
The team celebrated their well-deserved accomplishment in style with an Oscar worthy award ceremony at the shop—Red carpet and all! There was a custom-made fondant cake to spotlight the team, complete with Josie's iconic pink CRV, and their Chief Dog Officer, Charlie! Akin to the Stanley Cup, the cake had each team members' name engraved to recognize their victory!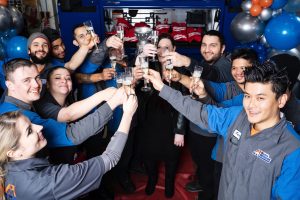 Master Mechanic High Park is looking forward to servicing the community for years to come!
You can read the full CARS Shop of The Year Article HERE and listen to Rui Silvestre on CBC Radio 99.1 HERE