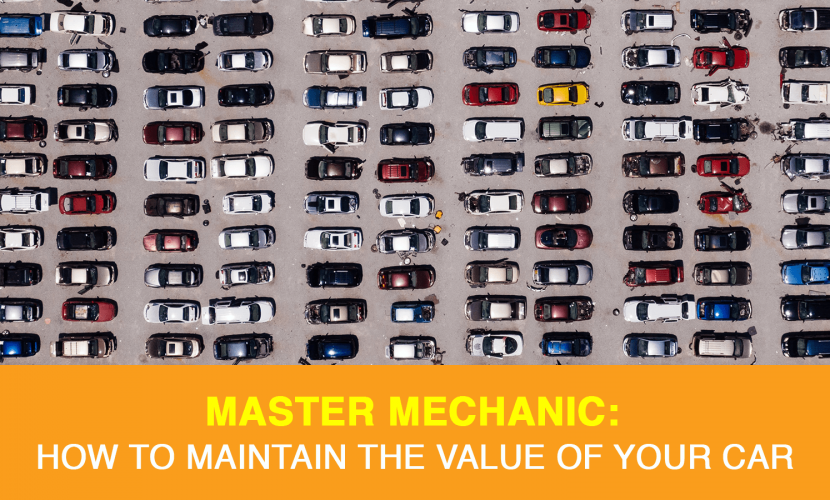 Master Mechanic: How to Maintain the Value of Your Car
At Master Mechanic, we know buying a new car is an exciting event. Although it's not something you probably want to think about when rolling off the lot, cars do depreciate instantly (up to 20%) and overtime. The good news is that there are a few things you can do to maintain the value of your car.

If you can keep your car in good condition, you can expect to fetch 10-20% higher for it if you sell it privately, or trade it in for another vehicle down the line.

We caught up with a Master Mechanic to find out how to ensure your car holds the maximum value.

1. Keep Up with Maintenance and Keep Records!
You should try to adhere to the maintenance schedule in your car's owner manual as best as possible. Even if you don't drive often, you should still follow the maintenance schedule to ensure everything is operating properly.
It's also important to keep records of all service and maintenance you get done on the car. This will help prove that your car was properly maintained if a purchaser ever asks. In today's digital world, there are some great apps and programs to help you do this more easily.
Whether it's a battery replacement, brake pads or a new transmission, you should always make note of:
The date the repair was performed
The location the repair was performed
The cost you paid for the repair
The parts used to repair your car
Your car's mileage when the repair was performed
If you have your car maintained at your local Master Mechanic, we'll also keep a record of all service performed. We keep comprehensive records of everything we do on your car and can help you when it comes time to resell.
2. Try to Keep Your Mileage Low
High mileage devalues a car more than age. It's no surprise then, that the more you drive, the less your car is worth. Even if they are immaculately maintained, a vehicle with high-mileage will always sell for less than a lower-mileage car.
If you want to avoid high depreciation, you'll need to do your best to maintain a lower-than-average mileage lifestyle. Canadians usually drive around 20,000km or more per year, so if you can stay below that, you're doing well. It's easier said than done, but if you can cut your driving down to 15,000km per year, it will be worth it when it comes time to resell. Consider alternating vehicles in a carpool and use public transit if/when it's possible.

3. Steer Clear of Aftermarket Mods
An aftermarket stereo system or skirt package might seem appealing to you, but it could actually depreciate the value of your car. It's certainly not going to add to your car's resale value.
We also never recommend installing any aftermarket components yourself. If you do, there is no guarantee of their quality or reliability in the eyes of a reseller, which could also reduce the car's value.
4. Take Care if The Exterior And The Interior
In Canada, regularly maintaining your car's exterior is essential. When the winter months roll around, our vehicles are up against the elements on a daily basis. Ice, hail, and road salt can quickly damage your car's paint.
Get your car washed at least every two weeks – and apply a good coat of wax before winter. Many drivers don't make a point to take care of their car's interior. Which is all the more reason that you should. Vacuum and clean it as often as you can. You should also avoid eating food, smoking, and any other activities that could cause permanent/lingering odours.
Cars are a very aesthetically driven purchase. The better your car looks inside and out, the more someone will likely pay for it.
Questions About Your Car?
Planning to sell your car? Questions or concerns before you do? At Master Mechanic, we'll always explain exactly what we find under the hood, what is required to fix it, and whether or not you need to. When it comes to car repairs, we're here to help. Contact us today to schedule an appointment!