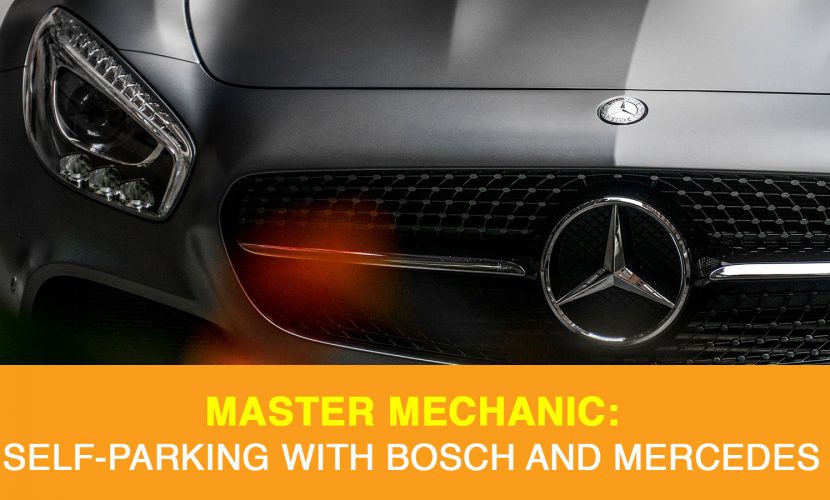 Master Mechanic: Self-Parking With Bosch And Mercedes
With so many vehicles coming in and out of Master Mechanic shops, we're very familiar with the care it takes to park correctly. Beyond being frustrating, it can be risky to park in certain situations. We've all encountered a tight spot when parallel parking or navigating a parking garage. Unfortunately, many of us have also experienced a minor collision when doing so! Thankfully, parking-related crashes have a very low injury rate. Still, they can be costly for drivers and insurance companies alike. Can self-parking garages help?
No More Parking Collisions?
For over two decades, automakers and tech companies have been working to reduce parking-related collisions. This spans all of the advanced parking assistance tech that we see included in most vehicles today.
German automotive supplier Bosch and automaker Daimler are just two such companies that have been working together on these types of parking assist technologies.
In recent years, Bosch and Daimler shifted their attention from in-car sensors and cameras to a driverless parking garage located in Stuttgart, Germany. The companies have announced that very soon, visitors to the Mercedes-Benz Museum will be able to ride in a car that can navigate and park by itself.
This "Automated Valet Parking" experience has existed in some form since 2017 but always required an onboard safety driver to monitor the vehicle. After recently receiving regulatory approval from government officials to operate a driverless parking service, we should see the experience roll out shortly. When it does, visitors to Stuttgart's Mercedes-Benz Museum will be able to call an autonomous vehicle from their smartphone.
How Self-Parking Works
Much of the technology to make this possible is housed in the parking garage, not the car. These sensors include lidar and cameras, which scan the garage 25 times a second for things like pedestrians and cars that could cause a collision. The system can also measure a spot and automatically determine if the vehicle will fit.
As it sits, attendees will only be able to participate in the robot valet experience using a specially outfitted Mercedes-Benz. Bosch claims that any old car could work with its automated parking garage system—if it's equipped properly. This equipment would include a communication unit, automatic transmission, electronic stability control, electric power steering, remote engine start, and a "safe stop" function. In short, don't expect your existing car to self-park at the Mercedes-Benz Museum anytime soon.
The pilot project is providing a lot of valuable insights on how autonomous vehicles can benefit our quality of life and infrastructure. They're also learning how people want to interact with self-driving and self-parking cars. The valet experience also helps information about how people prefer to share the road with self-driving cars. For examples, pedestrians and drivers feel safer when they know a car is being self-driven. The solution? The Mercedes-Benz vehicles will, glow turquoise when they're in self-parking mode to alert people nearby.
As autonomous cars come closer and closer to becoming mainstream, we're going to see self-parking become the norm. Do you dislike parking so much that you can't wait to welcome self-parking garages and cars, or are you skeptical of this new technology?
While you'll have to wait for fully autonomous vehicles to hit the market, we're here to help with any questions or concerns about your current car. Don't hesitate to contact your local Master Mechanic today!