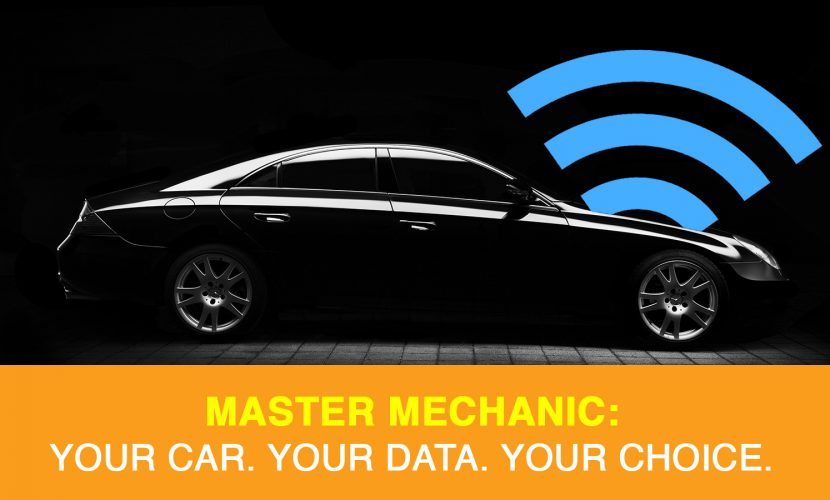 Master Mechanic: Your Car. Your Data. Your Choice.
Master Mechanic: Sign The "Your Car. Your Data. Your Choice." Petition
At Master Mechanic, we always have the best interest of our customers–and their vehicles–in mind. We pride ourselves on providing honest and transparent car service, so we believe customers have every right to choose where they bring their vehicle for maintenance. Don't you?
Today's cars collect and communicate a lot of information. They can alert you of possible collisions, flat tires, mechanical issues, and track your maintenance schedule. Packed with all this technology, modern vehicles are more like moving computers than automobiles. But who has access to all of this data that's being collected and what are they doing with it?
You may have heard the term "onboard computer." This means the data your car collects is stored on a computer inside the vehicle, essentially limiting who has access to it. Newer cars, however, have begun wirelessly transmitting data straight to car manufacturers, in real-time.
By 2022, approximately 70% – 95% of new cars in Canada will have wireless technology that transmits information about the vehicle's condition and the owner's driving habits in real-time. This can be a good thing, if used responsibly. Unfortunately, it's currently not. This information could also be quite useful if drivers could access it. Unfortunately, they can't.
The data that your car collects while you drive is automatically sent back to your automaker, and they alone decide how it's used. At Master Mechanic, we believe you should be able to access your own car data and make those decisions for yourself.
What is "Your Car. Your Data. Your Choice."?
Your Car. Your Data. Your Choice. is an Auto Care Association and Automotive Aftermarket Suppliers Association (AASA) initiative that engages car owners, policymakers, and other stakeholders on issues related to car data. This includes what it is, why it matters, and how it could impact car owners.
Back in November 2020, The Automotive Industries Association (AIA) of Canada announced its support for Your Car. Your Data. Your Choice. We're also proud to support this important initiative to better protect our customers and peers in the industry!
Why is Your Car. Your Data. Your Choice. Important?
Suppose you have a preferred repair shop or like to do some maintenance yourself. In that case, the information your car collects is very useful. If your automaker is the only one with access to the data, that means no one else can diagnose or repair the vehicle. In short, if they dictate who has access to the data, they can control where you bring your vehicle for service. If there less consumer choice, that could lead to inconvenience and increased costs for all drivers. It could also lead to nearly 500,000 members of the Canadian automotive aftermarket industry losing their livelihoods.
By supporting Your Car. Your Data. Your Choice., we can help increase awareness about the lack of access and control Canadian consumers have over their car data. We can also help ensure that you can continue to service your vehicle how–and where–you want.
How Can you support the "Your Car. Your Data. Your Choice." Campaign?
The Your Car. Your Data. Your Choice. campaign is calling drivers to take action–and take control of their data. You can find out more information about Your Car. Your Data. Your Choice. by visiting www.vehicledataaccess.aiacanada.com
Sign the "Your Car. Your Data. Your Choice." Petition
When you're ready, please sign the petition to take control of your car data! It means that aftermarket repair shops, like Master Mechanic, can continue to provide you with the honest and transparent service you've come to know us for. It also ensures that pricing stays competitive and service is always centred around customer convenience.