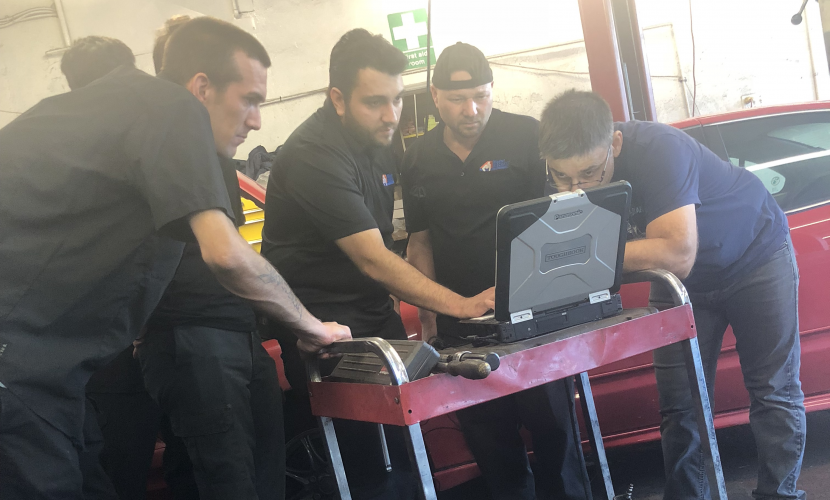 Team Building at Master Mechanic High Park
At Master Mechanic High Park, we make it our mission to ensure every customer drives away completely satisfied with the service they received. Thanks to our dedicated staff, we have a nearly perfect rating on Google and amazing reviews from our wonderful customers.
Great service requires a great team, and we couldn't be happier with our crew. Led by Josie Candito, Mike Tavares, and Rui Silvestre (Technician of the Year), each member of our team is integral to what we do on a daily basis. We couldn't do it without them or their expertise, and that's why teambuilding is so important to us.
We all believe in ongoing training, and we strive to keep up with the latest trends that will serve our clients best. This is no easy feat!
Rui works closely with all his colleagues, coaching them on best practices, to ensure they're experts at everything they do. This training often takes place after business hours, a true testament to our team's dedication to their craft.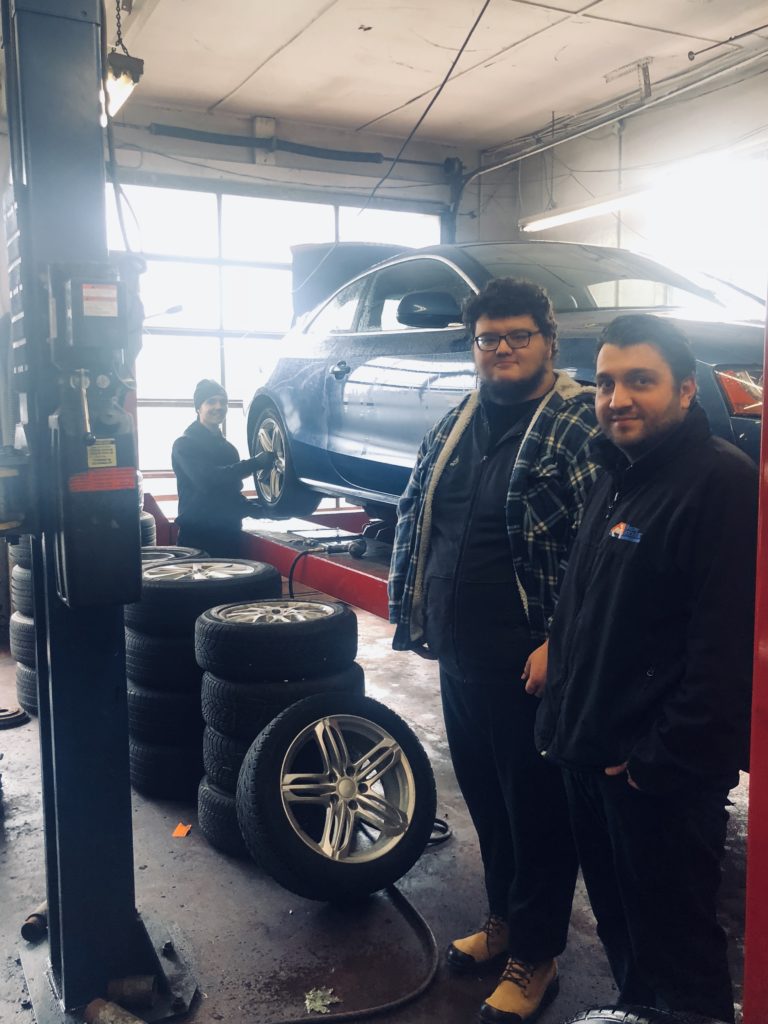 Recently, Rui and his fellow technician, Jonathon, began mentoring Ricky from Student Links Ontario. Student Links is a program that creates opportunities for students who have an intellectual disability. It gives them the chance to explore their options after high school, while working alongside mentors that share a common passion. The goal is to help them make informed decisions about their future prior to leaving school. We're thrilled to share that Ricky has decided to continue his education at George Brown in January! We're so happy to have him working with our team and are honoured to have helped influence his decision.
With all the effort our team puts in on a daily basis, we make sure to carve out time for fun, too. It's these extracurricular activities that really help us bond as a group and work so well together in (and out of) the shop.
We love to party!
At Master Mechanic High Park, we love to celebrate our milestones with a good ol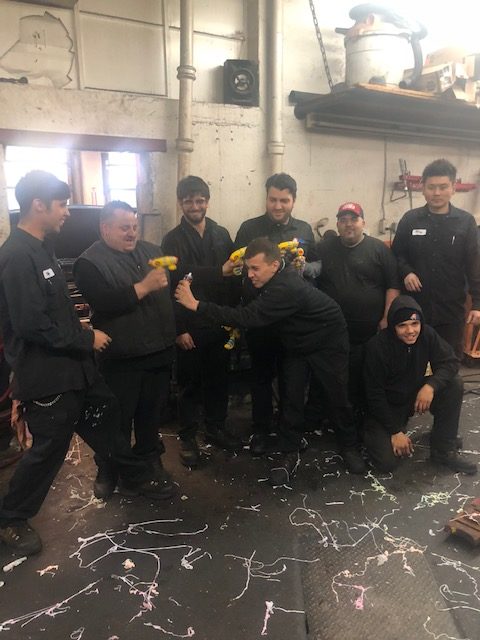 d-fashioned party. When our apprentice, Brandon, recently received his licence, our team had a celebration ready for him upon his return. It was a big deal for the team,
since Brandon was us since a high school co-op student! The usual food, cake, balloons, silly string shower we're waiting for him at the shop with his family and friends.
We say 'usual' because the same thing goes down for pretty much every special occasion! From surprise birthdays, to Charlie's Rescueversary, to Halloween, you can guarantee we're celebrating together any chance we get.
We love to dress up!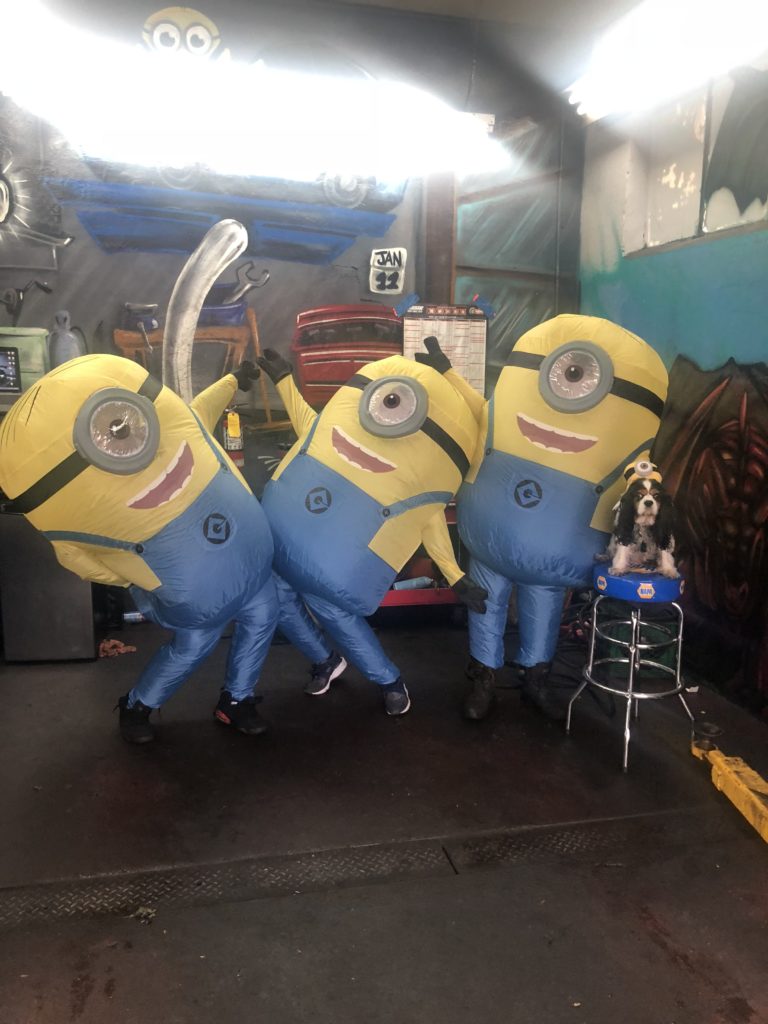 On Halloween our team brought their A-game with some really creative costumes that our customers and fans on social media enjoyed. From Minions, to Pizza, to Police, we had quite the variety of costumes on display. If you're familiar with our shop, this probably isn't surprising.
It doesn't need to be Halloween for us to dress up. You may have seen our shop mural that portrays our staff dressed as superheroes. You may have also seen our staff actually dressed as superheroes on social media! Each one of our staff has an alias they use to do good in the community. It's another way we like to have fun and spotlight the superheroes we have working with us.
Just this summer, our team stepped into their costumes for National Super Hero Day to raise money for SickKids Hospital. This brings us to our next point…
We love to give back!
It's no secret that we love to give back. Having the support of an entire team makes it that much easier. That's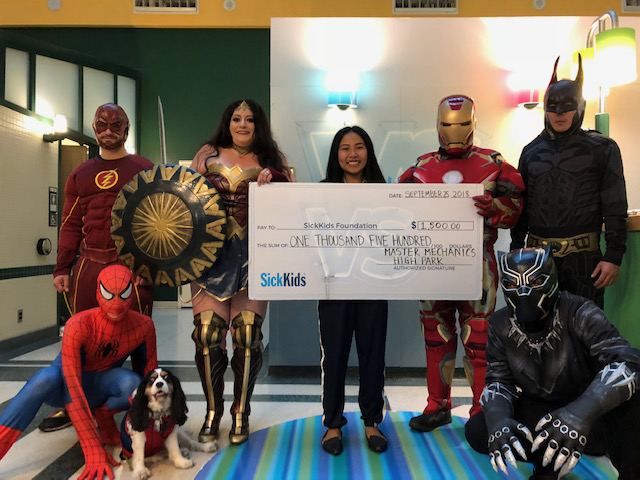 why it's important to us to do things that are meaningful to our staff and customers. This year we had the pleasure of working on some really awesome initiatives for some really great causes. We got to dance our way to raising $1750 for SickKids hospitalwith the #InMyFeelings challenge–although Andre did most of the dancing. This past Spring, our technicians worked afterhours to surprise a beloved cancer survivorwith $8,000 in desperately needed car repairs.This fall, we became a key drop-off location for The Period Purse; And just last month we got to support Movember and help grow awareness. We can't help it; our team are fixers at heart!
We love to play!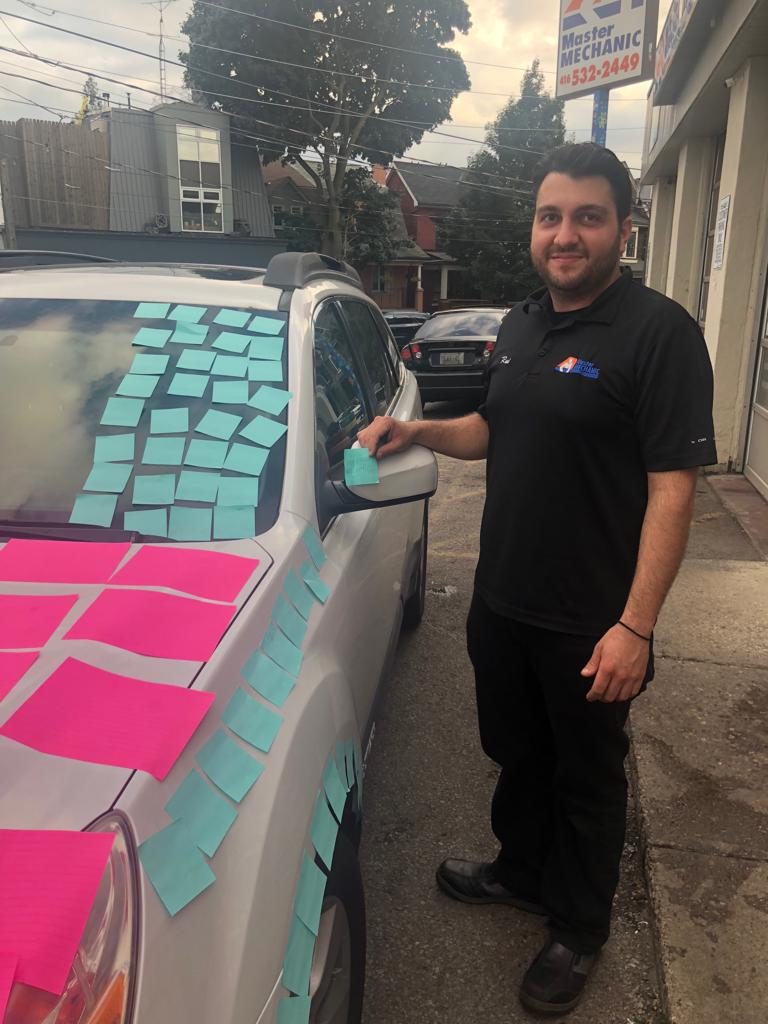 All work and no play can make work a dull place! With the amount of time we spend in the shop, we try to have fun when we can. That usually manifests itself in the form of harmless pranks and shenanigans, like the time Rui covered Josie's computer monitor in Post-it notes. Somebodygot revenge on his car later that day, but we still haven't confirmed who it was… 😉
We also love planning group activities to blow-off some steam. Go-karting and paintballing are two of our favourite events to plan for. Most recently, we painted the town (and ourselves) for a night of paintballing at Defcon Paintball. It was Team Mike vs. Team Rui (as always), but we all came together afterwards for foosball and food at Josie's place.
At Master Mechanic High Park, we truly are a family. "I've never had anyone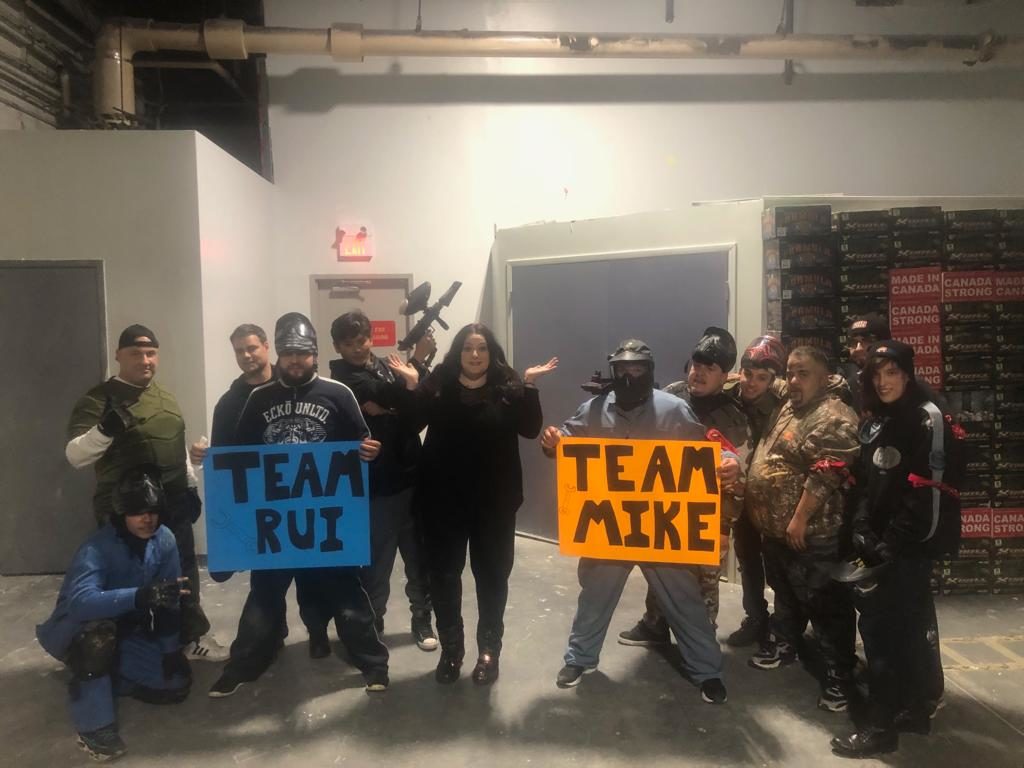 believe in me before. Like what did I do to deserve this? When I felt like my life was going downhill and I'd given up on everything, Josie was there to keep me on the right path. She motivates me to do good deeds and spread positivity," said our technician Jonathon of his experience. This is why team building and community initiatives have always been so important to us. It's why we love coming into the shop and why we love working with our customers. Every person we meet, or story we hear, is the chance to build something amazing!
To keep up with all of our shenanigans, initiatives and more, be sure to follow us on social media:
Follow us on Instagram
Folllw us on Twitter
Like us on Facebook