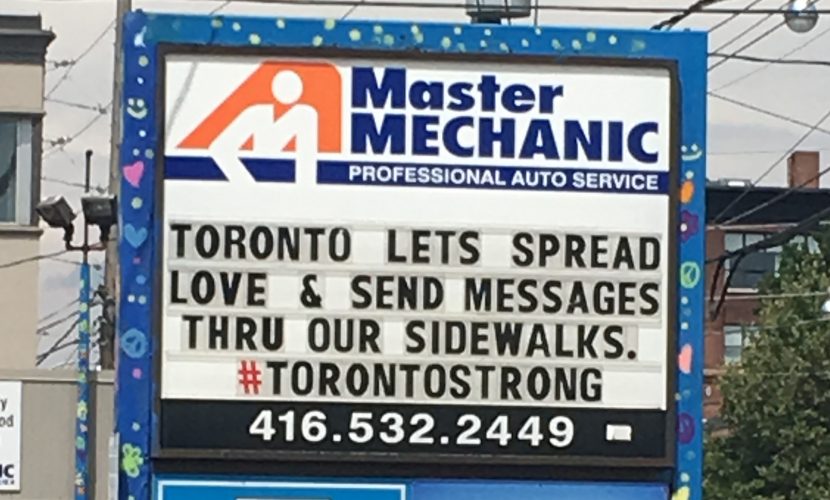 #TorontoStrong at Master Mechanic High Park
After the shocking tragedy that devastated our city's Greektown neighbourhood this past weekend, many celebrities, public figures, and politicians have shared messages of support and unity on social media. In the wake of the second attack this year, the hashtag #TorontoStrong began once again trending on Twitter early Sunday morning, shedding light on our resilience in the face of fear.
My thoughts are with the victims of last night's shooting on the Danforth, their friends and families, and our entire Toronto community in the wake of this tragedy. https://t.co/9wSqw14onS

— Arif Virani (@viraniarif) July 23, 2018
Our thoughts and support are with all those affected by yesterday's events here in our city.

To the city's incredible first responders, we thank you for your tireless work last night and every night. #TorontoStrong

— Toronto Maple Leafs (@MapleLeafs) July 23, 2018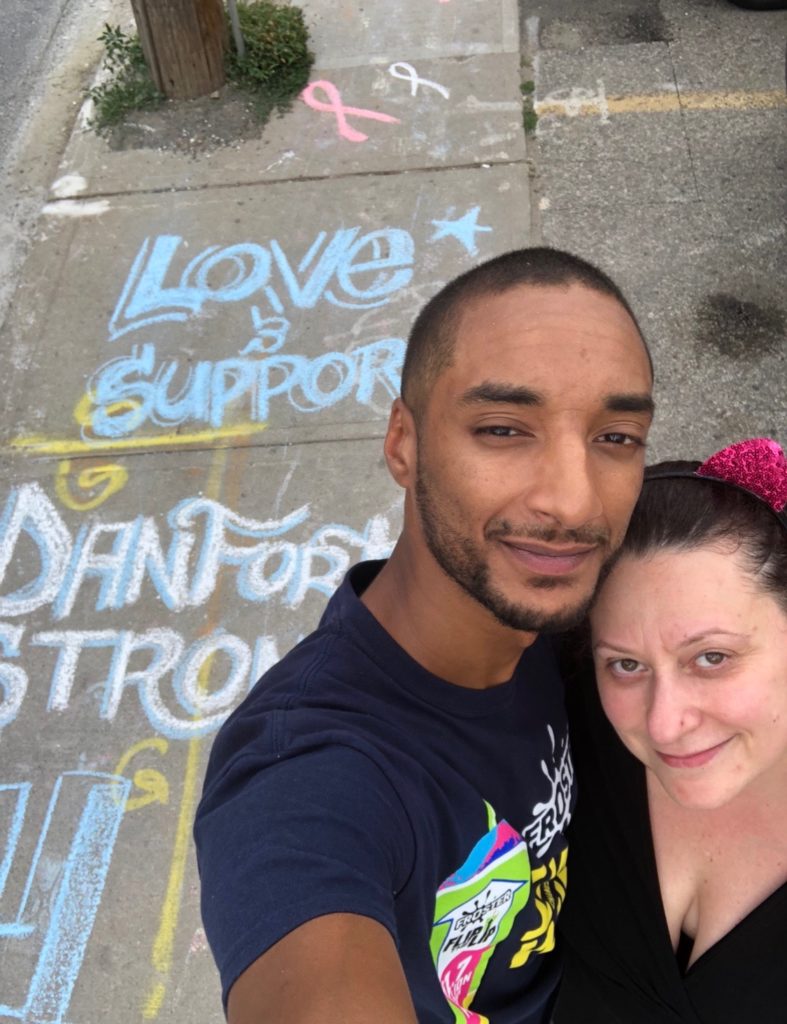 At Master Mechanic High Park, we wanted to show our support for the city that we hold so close to our heart; the city that's been our home for nearly 20 years. Our city is a safe and beautiful place. When someone tries to make us believe otherwise, it's important that we stick together and remind ourselves how much love there is in Toronto; that love is stronger than hate.
As a tribute, Josie invited a local artist, MagicFinnga WonG, to blanket the sidewalk in front of our shop with positive messages and uplifting artwork. We'd like to thank him for once again collaborating with us and taking time to help put this together.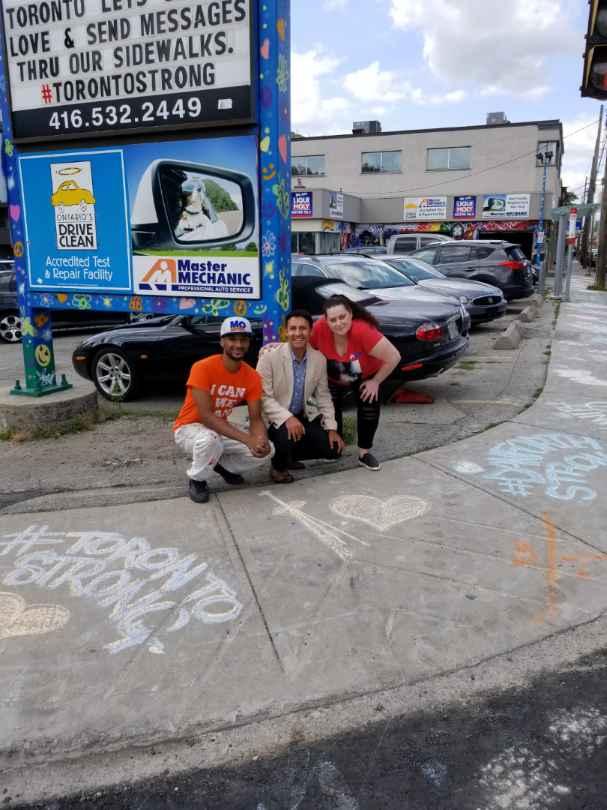 We've left chalk along the mural so that members of our community and those passing by could share their own positive words for our Danforth neighbours. For as long as the mural is up, we invite you to stop by to share your support, say hi, and spread some positivity in our city at this much needed time.
Local MP for Parkdale-High Park, Arif Virani, stopped by to pay tribute and show his support. It' been so heart-warming to see the response from the community.
Today I joined @MMHighPark's @jcandito72 & local artist @MagicfinngaW to see how they are working to support the community in the wake of the tragic events in the Danforth. To support the victims & the families, you can go to https://t.co/T8xRO6Sf8R #DanforthStrong pic.twitter.com/kGTfC9M4l4

— Arif Virani (@viraniarif) July 27, 2018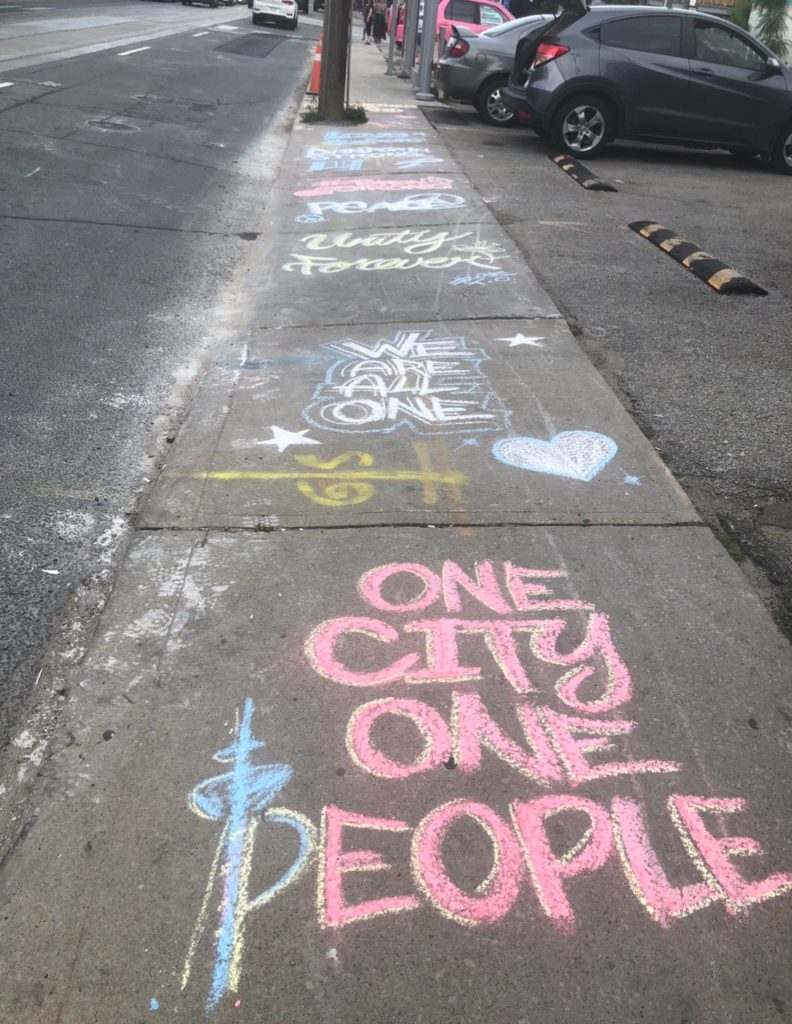 Our thoughts and prayers go out to the victims, their families, the community, and everyone impacted by this senseless act of violence.
Our city is strong, we stand behind you, and we'll get through this together. #TorontoStrong